"Must see" experiences in Bangkok
"Must see" experiences in Bangkok
Bangkok is the capital city of Thailand and has a thousand smells, sights and tastes. To fully indulge in all that this magical city has to offer, it's worth going beyond the typical tourist traps downtown. While visiting Ratchadamnoen Avenue and Chinatown are amazing, the Grand Palace incredible, the Reclining Buddha beyond belief, there's so much more one can see from walking along the Chao Phraya River or just exploring old buildings in the Khao San area. There are also tons of hidden gems on street corners for foodies around every turn!
Bangkok's night markets are popular attractions for visitors. Some of the best known include Wang Tung Night Market which is more inexpensive and has lots to choose from when it comes to street food such as the grilled meats on skewers and Chinese-oriented delights. The Bridge Night Market is also a hugely popular attraction with hundreds of stalls selling everything from clothing to souvenirs. While most visitors visit during the day, it opens late into the night with live music and other entertainment on offer. You can sample delicious Thai delicacies at the Khlong Thom Night Market near the Chao Phraya River or, of course, the most famous of all areas in Bangkok – the Khao San Road Night Market, where alongside an endless array of street food traditional Thai traders have been offering their wares for over 50 years. The street comes alive by night when music starts playing from local bars, people have a few drinks as they walk around, street performers try to catch some spare change and vendors try to tempt people with street eats and cheap drinks.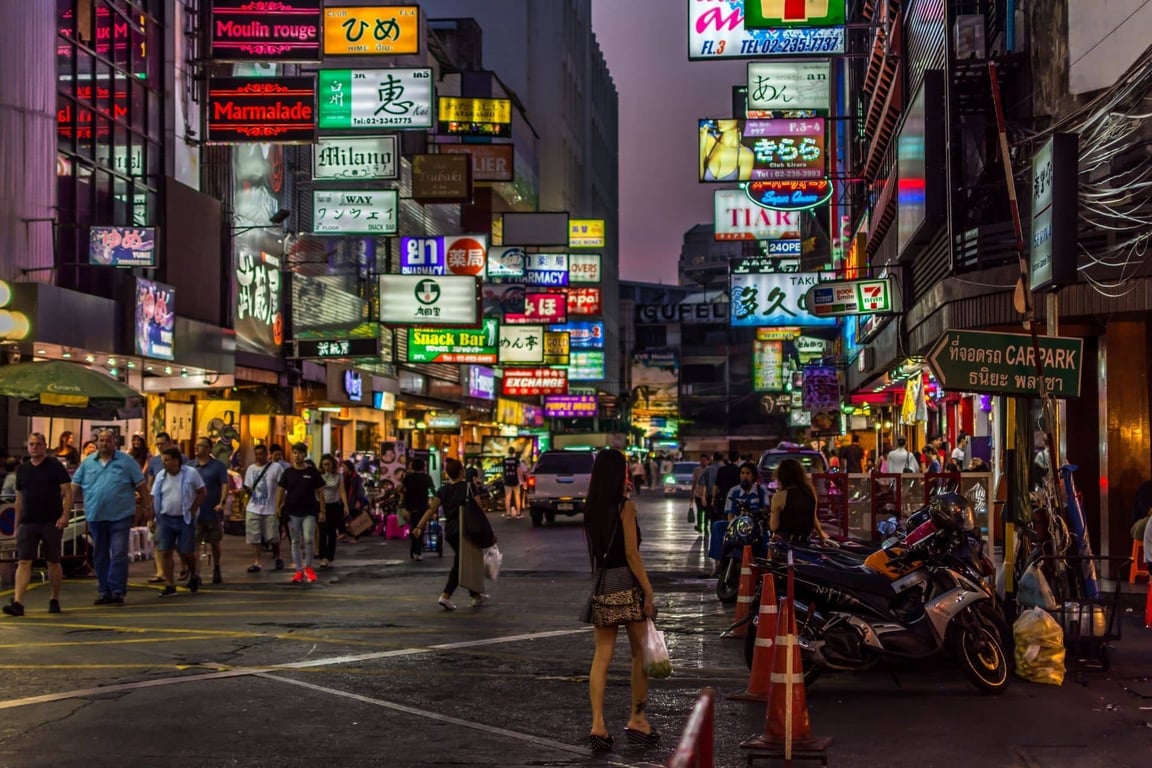 The extravagant Grand Palace is definitely a top place to visit Bangkok. Built in the 1780s, it has long been the official home of the Thai monarch. The palace comprises over 100 buildings noted for the grandeur and rich culture, blending Thai, Chinese and European styles largely thanks to the many monarchs that made their marks on the palace over the years. Large mythical giants, known as Yants, guard gateways and the mythical bird-like Garudas perch on many ledges. The many Buddha in different poses correspond to days of the year. Buddhists come here often to pay their respects at the Emerald Buddha (Wat Phra Kaew) statue which is made from a green jade stone. The shrine is understood by all Buddhists around the world as Thailand's most sacred Buddha statue because it represents spiritual protection.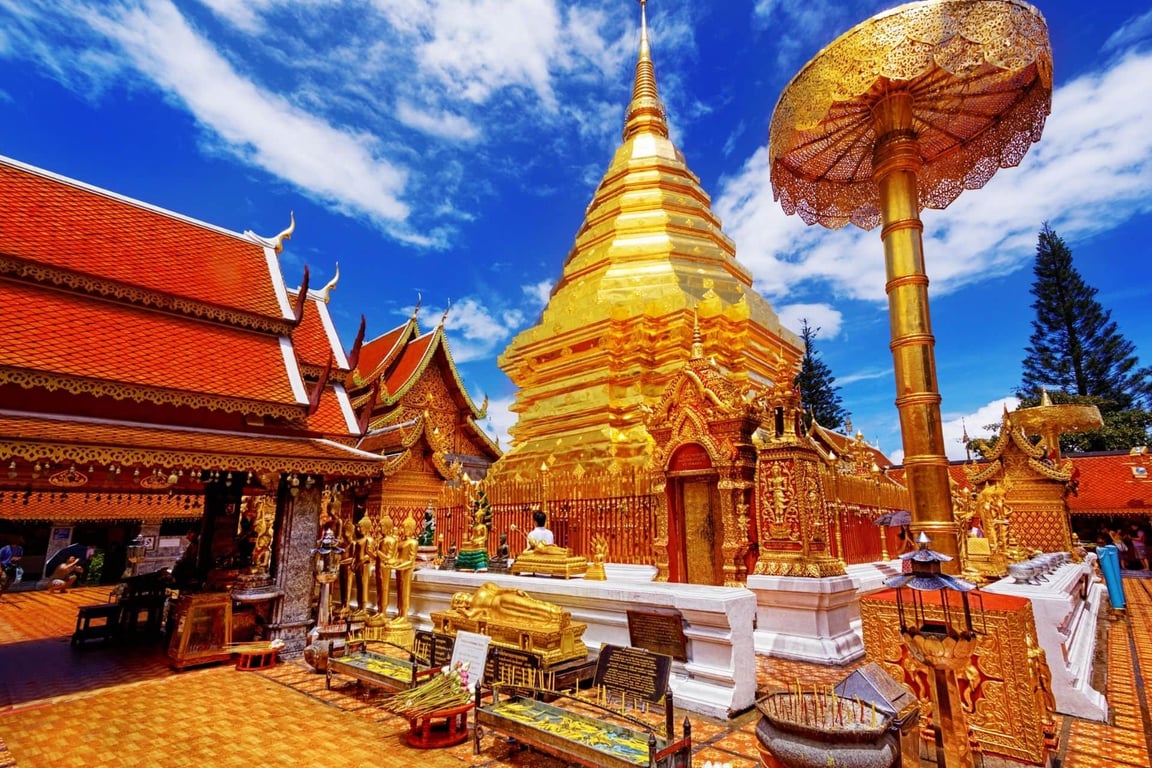 A visit to Wat Arun temple (also sometimes known as Wat Chaeng) is highly recommended for its stunning architecture and detailed structure making it one of the most beautiful temples in Thailand. Wat Arun is located on an island Thonburi side of the Chao Phraya River across from the Grand Palace and is known as "temple of the dawn" as it appears bright golden when rising above horizon shortly before sunrise.
The temple grounds are incredible as they feature a huge botanical garden with manicured shrubbery, palm trees and flowers. The most impressive part of this palace is its four layered walls made entirely out of teak wood which look similar to X-ray film where one can see through them.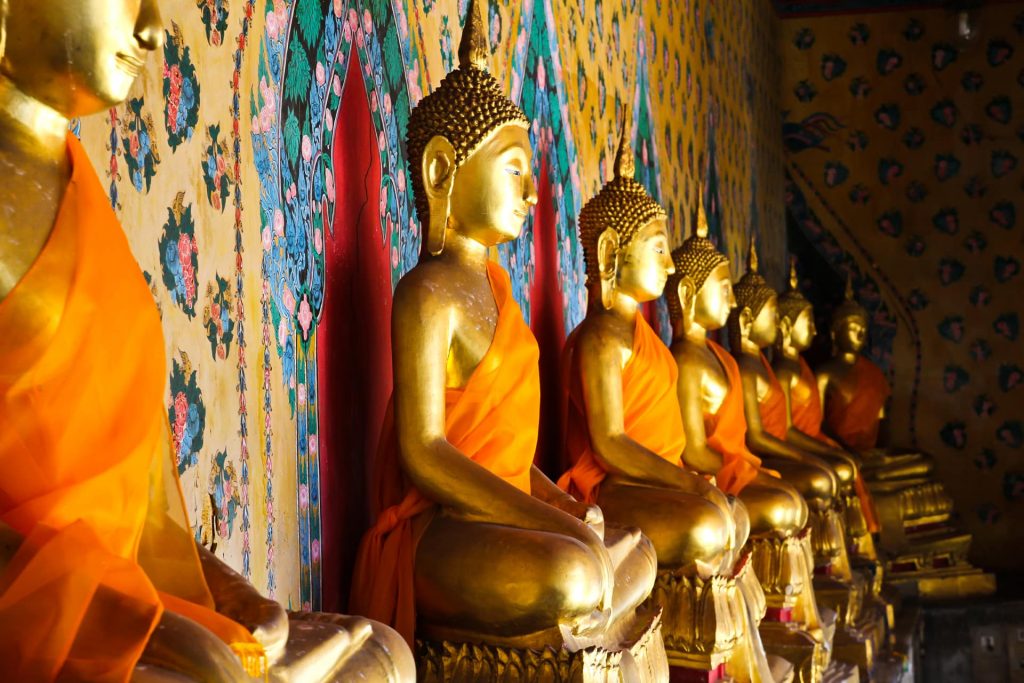 As in so many other big cities, Bangkok has its own eponymous China Town. There is no doubt that you are in China Town as the streets are lined with red lanterns and golden dragons. Established in the 1780s it is one of the biggest China Towns in the world. It is a great place in Bangkok for foodies! You will find street vendors who are dishing out local delicacies that playfully fuse Asian and Thai cuisine. None more so than the local delicacy of Bourbon Crickets. If eating bugs is something that you are still understandably hesitant about, no problem, shophouses line the streets and the pavements are crowded with pedestrians and stalls. The vibe is energetic and you'll find shops selling everything from affordable electronics and cheap clothing to traditional Chinese herbal remedies and gold.
Walk along the bustling Yaowarat Road, losing yourself in the hustle and bustle. Take in the sight of Wat Traimit, home to the biggest solid gold Buddha statue in the world and its lavish decorations. Get your Insta-photo on Kingsize Street or at the one-of-a-kind ornate Chinatown Gate. Visit Banglamphu Gate, an ancient Chinese shrine built back in the Thonburi era that is dedicated to Tin Hau, goddess of navigation. Hunt for bargains along the busy streets of Sampeng Lane and its endless market stalls. Step inside Wat Mangkon Kamalawat, Bangkok's most important Chinese temple where multiple Asian cultures meet by means of Buddhist, Taoist, and Confucian practices that merge together within various elements found inside the architecture itself. Watch traditional dance shows at the historic Sala Chalermkrung theatre then end your day admiring a lovely view of Silom road from Romeneenart Park which offers an aesthetic Thai landscape experience!
Experience Bangkok by bike
A fantastic alternative experience you will never forget as an adventurer is taking a guided bike ride through the capital's lesser known areas. This is intuitively one of the most beautiful ways to see this vibrant city. You cycle past some well-trodden tourist sites but it also is the opportunity get off the beaten track where you might just discover some hidden gems like one of Bangkok's many natural parks. Try Wat Puet Udom in Pathom Thani for a temple that offers something a bit different to the norm with its large and colourful statues and a section dedicated to Buddhist Hell. Wat Yannawa is an unusual temple designed to resemble a traditional Chinese junk (sailing vessel). Ride through the huge Lumpini Park near the city centre. If you are lucky you will come across the gigantic monitor lizards swimming in the lakes or sun baking in the trees.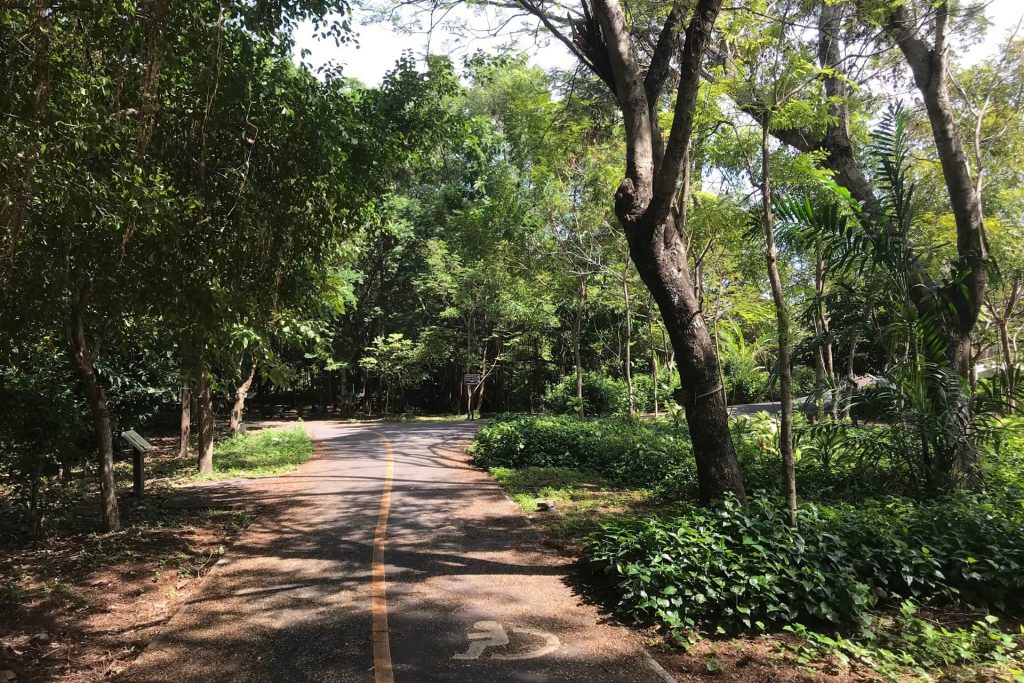 Visit Chatuchak Weekend Market
One of the biggest weekend markets in the world, Chatuchak Weekend Market was founded by King Rama IV, who had the vision to have an open-air market where local craftsmen and artisans could showcase their products and skills, and is located near Bangkok's city centre. Over 15000 stalls spread across 30 sections of markets (also known as JJ Market) selling anything from clothing to home-made gourmet foods. Vendors offer everything from Japanese kitchenware to Thai teak wares down to handbags and shoes. It's often said that if you can't find what you're looking for at Chatuchak Market then it's not worth having!
Although prices are generally reasonable, the weekend market is a great place to improve your haggling skills. Sample an array of street food and chill in a bar with a cool beer or fresh fruit juice. Don't miss seeing the clock tower decorated shortly after King Bhumibol Adulyadej's 60th birthday anniversary in 2007. The market is open on Fridays, Saturdays and Sundays, attracting as many as 400,000 people each weekend.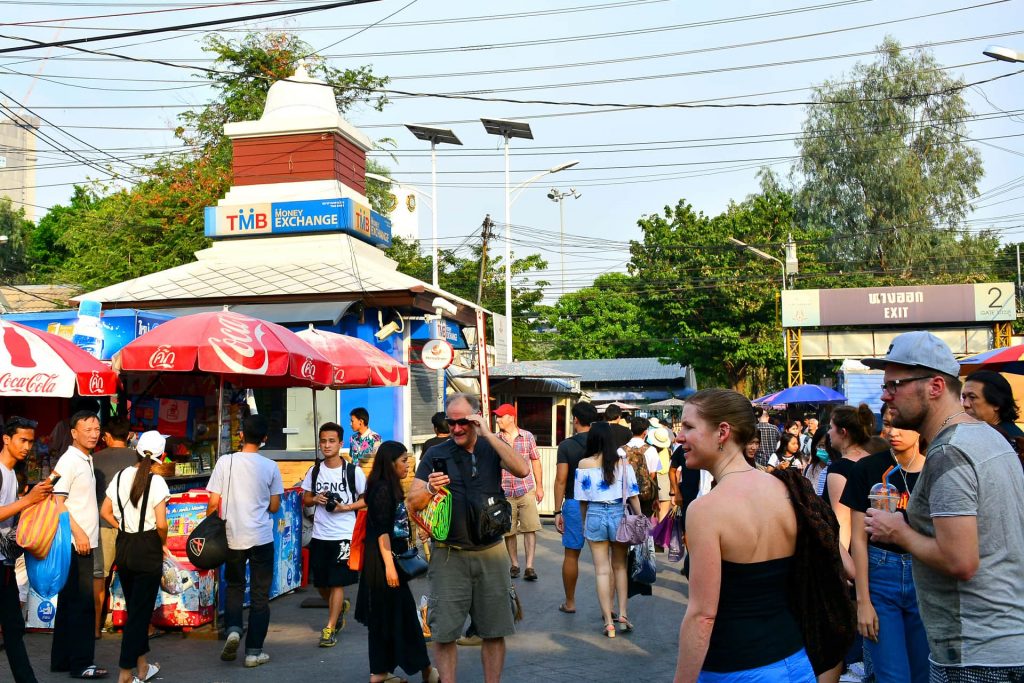 Eat food from the street kitchens
One thing about the street food you'll find in Bangkok is that it just may be some of the best in the world – Bangkok has great street culinary culture. If you're searching for authentic Thai cuisine during your time in this fantastic city, consider stopping at one of the many street food vendors spread throughout the city. Pad Thai is a favourite among the locals and tourists and can be found on nearly every corner. Also try the popular mango sticky rice.
Bangkok can be an overwhelming place with lots of varied experiences amongst the hustle and bustle of tooting tuk-tuks and crowded pavements. You will find both impressive temples and shrines, as well as culinary experiences with Thailand's signature dishes, plus fantastic markets night and day. Bangkok is quite unlike any other city on earth. This place has a magic about it that makes every visitor fall in love with the energy and spirit of it all at once.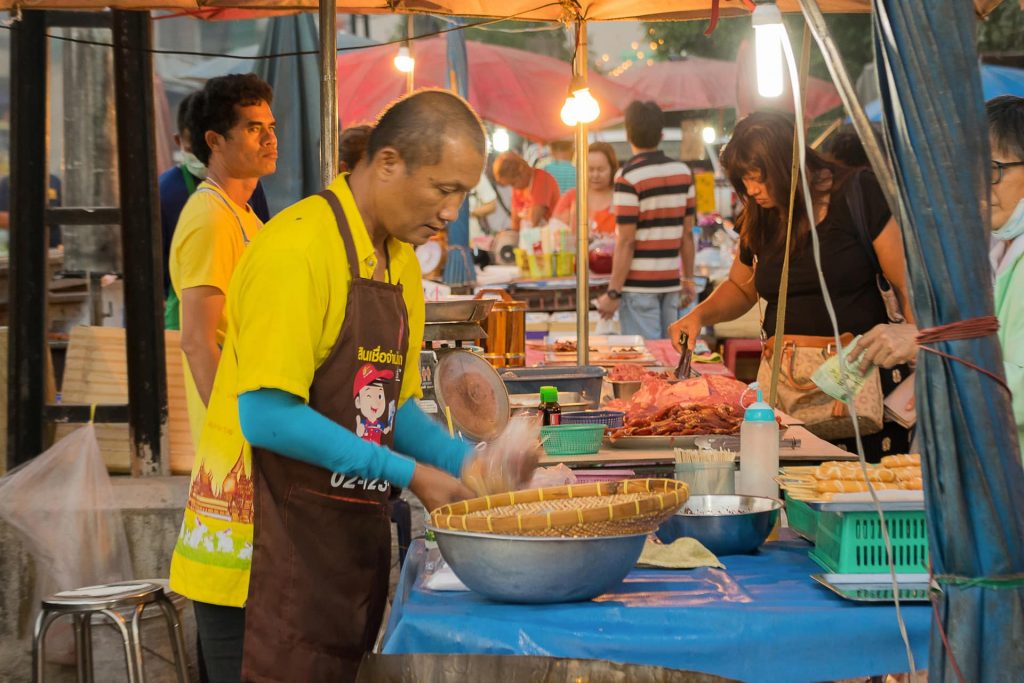 Tropical beaches, lush rainforests, dense jungles, vibrant cities, spectacular cuisine and some of the most lovely people on the planet – this is Thailand!!!
Immerse yourself in real Southeastasian culture on this one month odyssey through the hearts of incredible Thailand and Vietnam.
Other articles you might like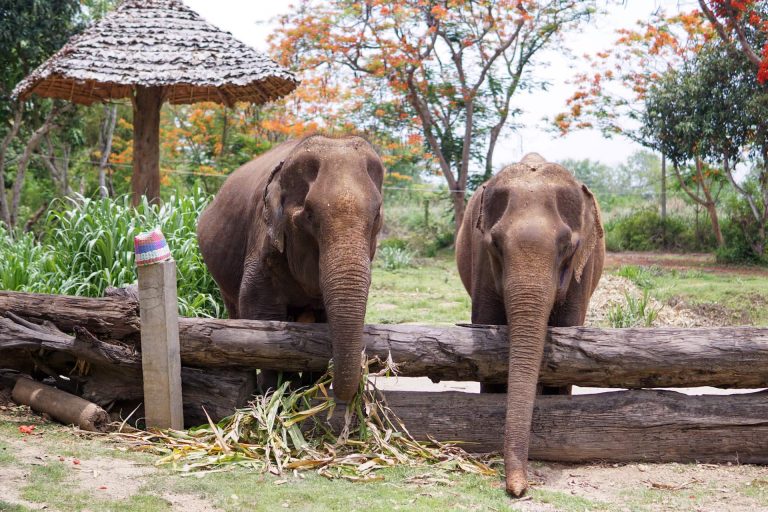 It's hard to imagine a Thailand without elephants – they are as much of the tourism DNA of Thailand as are the beautiful collections of archipelago islands with their golden
Get Inspiration »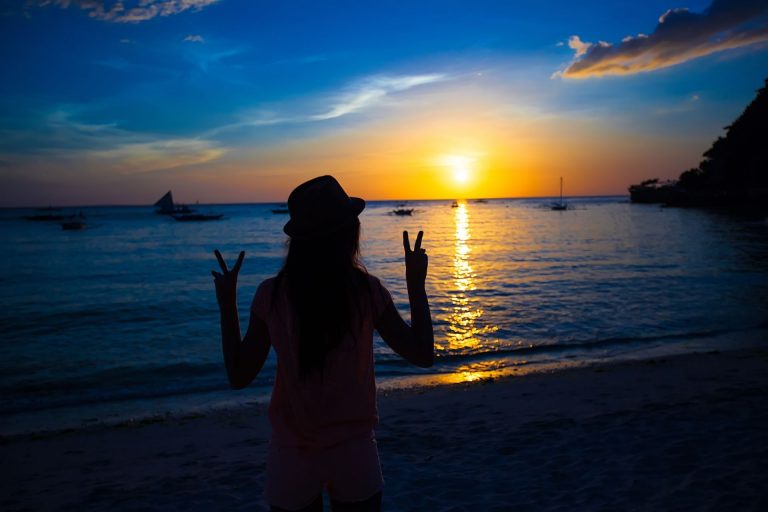 Welcome to our U.Advice Guide for Asia. This guide has been written by members of our U.Crew who have personally been and travelled extensively throughout Asia, and have had a
Get Inspiration »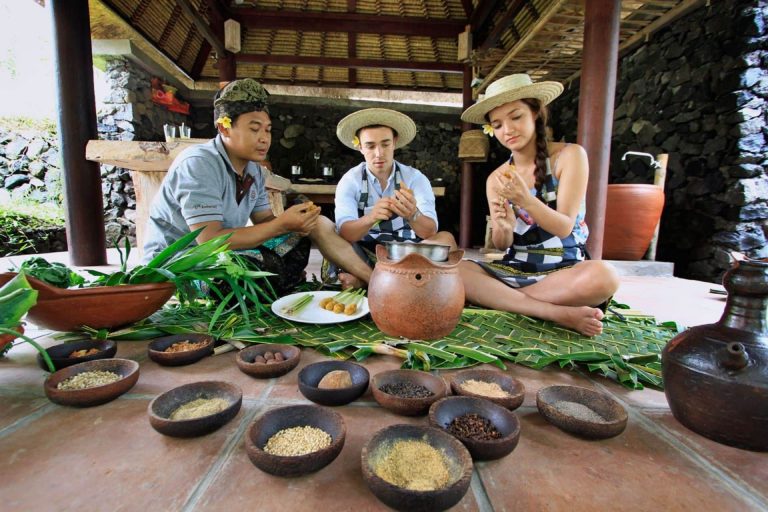 Visiting Asia – Here's What You Need to Know Before You Travel A world away, both in the distance and cultural diversity, Asia is an enormous melting pot of distinct
Get Inspiration »