FANTASTIC FOOD, BEAUTIFUL BEACHES AND WORLD'S MOST WONDERFUL PEOPLE.
The perfect adventure tour to travel Thailand on a budget
Once visited most travellers can't return fast enough to Thailand. Sure it has incredible beaches, sumptuous food, breath-taking scenery, but it is the wonderful Thai people that top of the experience of a gap year adventure or backpacking in Thailand.
From remote mountainous tribal villages around Chang Mai to those welcoming you to the tourist beaches around Phi Phi Island, Phuket and Koh Phangan it is the never-ending smile of the locals that sets Thailand apart from almost any other destination.
Of course, the scenery is incredible – that is why so many movies are made here – visit James Bond Island and Leonardo di Caprio's Beach to name a few. And the food is, well, Thai food – and everyone loves that. But Thailand has to also be one of the few destinations where travelling on a budget truly is that. Thailand is amazing value for money!
Yes, it is one of our favourite destinations, anywhere!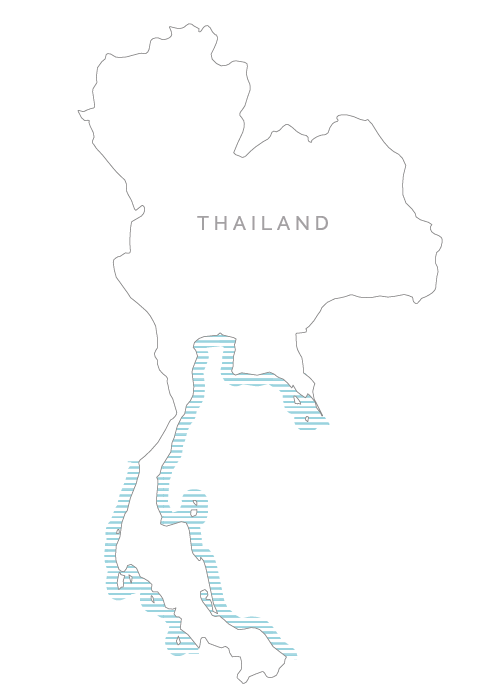 Chiang Rai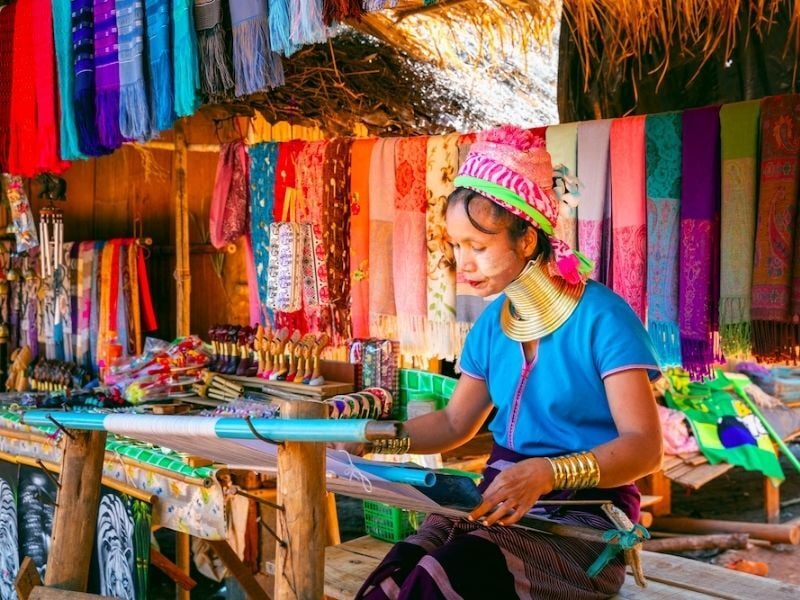 Chiang Rai is close to the Myanmar and Laos borders and as such has a distinctly different Northern feel to other parts of Thailand. The distinctive hill tribes in the surrounding mountainous area should definitely be visited. But be warned the food in this part of the country is definitely a little spicier.
Chiang Mai
Chiang Mai is Thailand's second largest city after Bangkok and in the early part of the 20th century was the royal kingdom of the North complete with fortifications and moat. It was then that the magnificent Wat Phra Singh temple was built. It is said to visitors that they have not experienced Chang Mai until they have taken in the view from Doi Suthep, eaten a bowl of kao soi, and purchased an umbrella from Bo Sang. The mountains around Chiang Mai are an adventure playground for river rafting, hiking, and zipping.
We strongly discourage the riding of elephants as their backs are not designed to bear human weight and they often are tortured to train them to be able to be ridden.
Sukhothai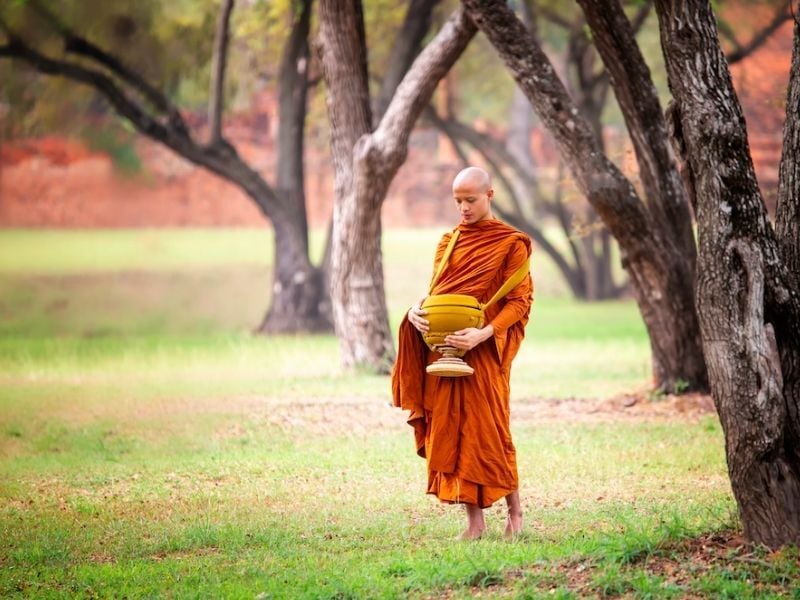 Sukhothai was the original capital of the kingdom of Siam, Sukhothai and the name itself means "dawn of happiness". Base yourself here to visit the ruins of Si Satchanalai, The Royal Palace, and many of the important Buddhist temples.
Ayutthaya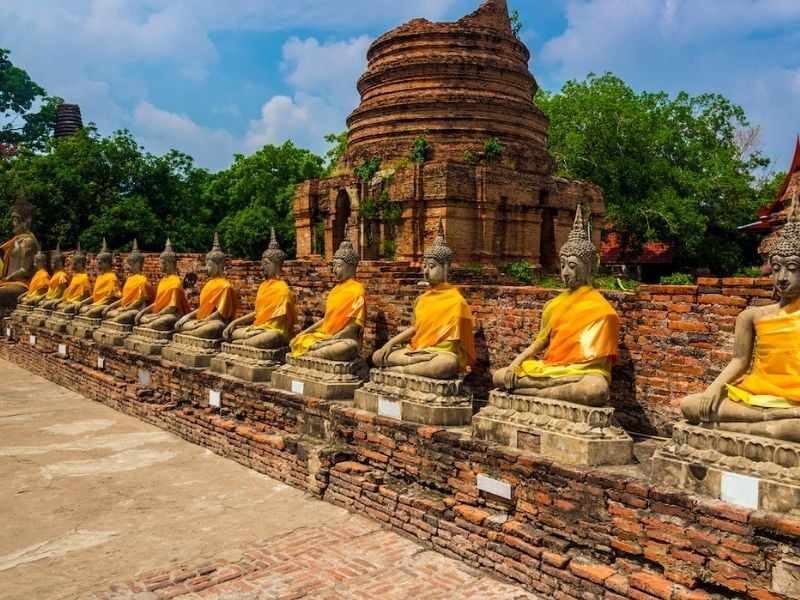 In 1700 Ayutthaya was the most populated city in the entire world with over 1 million inhabitants. It was the centre of trade with Arabia, India, China, and Europe. Merchant records describe an incredible city of golden grandeur. Unfortunately however in 1767 the Burmese Army virtually raised the entire city burning it to the ground. Today only some of prang (reliquary towers) and big monasteries remain as evidence of this once great city.
Pattaya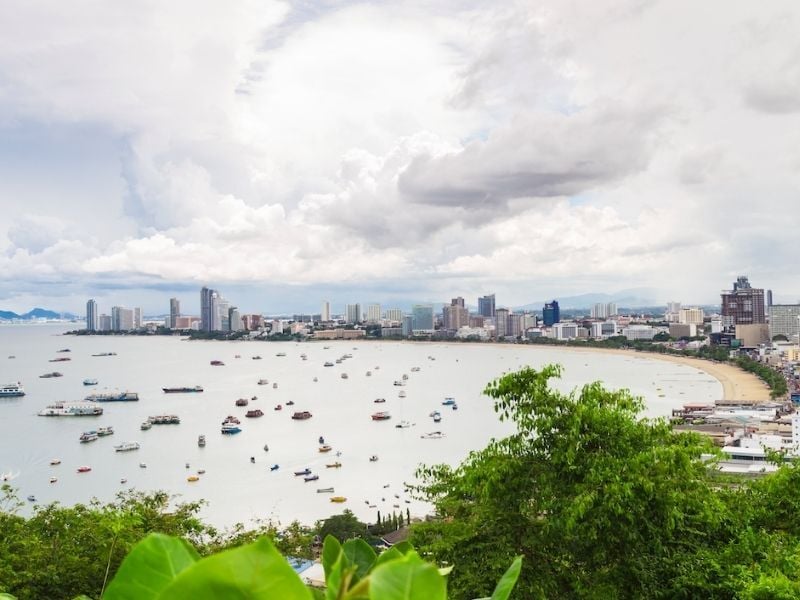 Pattaya is a seaside resort town that grew up as a fishing community but has since become known for its sex-industry and nightlife. The beaches are lovely but the dense city population mean they are not as amazing as other parts of Thailand.
Bangkok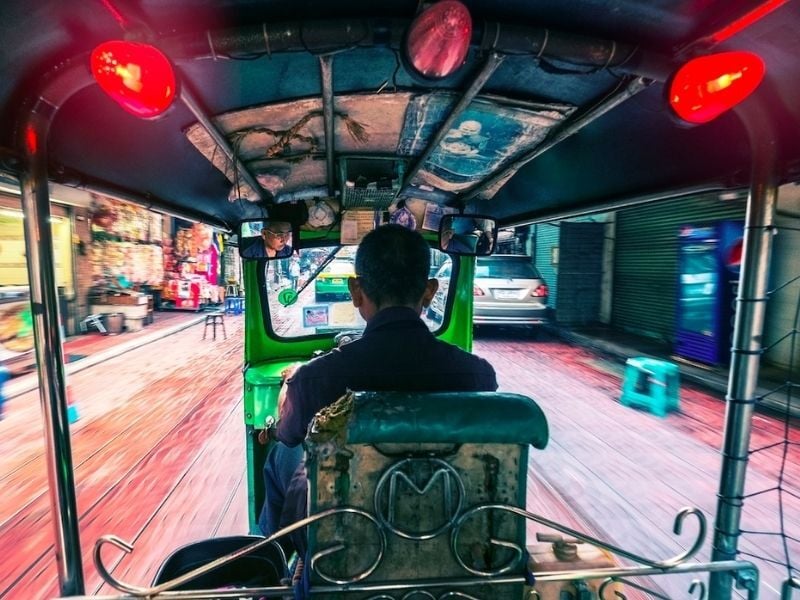 Bangkok is known with travellers for its lively nightlife full of fun and great experiences However, the city is not just party and colours, it is rich in culture history and burst to the seams with amazing Buddhist temples. The varied and affordable food is a real highlight for visitors to Bangkok and the floating markets are very worthy of a trip. Or be adventurous and take a wild ride through the city in the back of a Tuk Tuk.
Koh Tao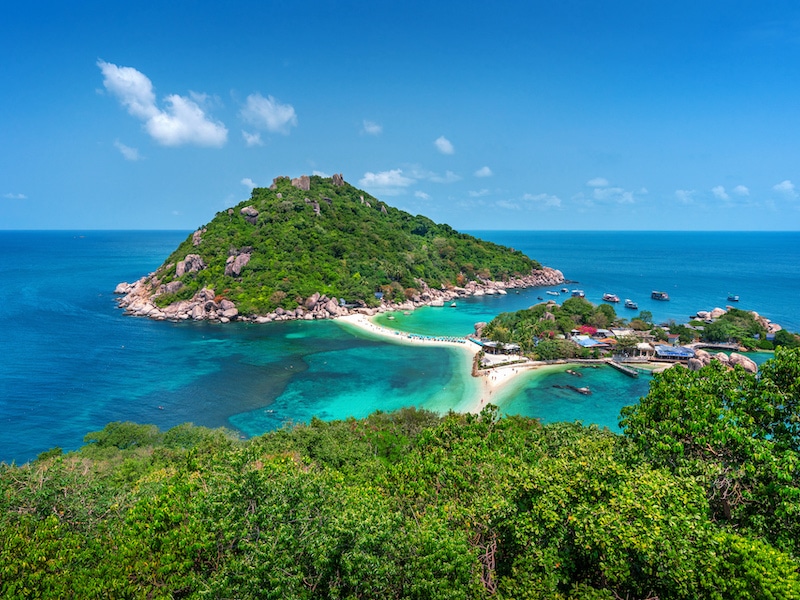 Less populated than nearby Koh Samui and Koh Php Ngan, Ko Tao translates to Turtle Island and the island is an important breeding ground for the hawksbill and green turtles. Scuba diving is extremely popular in Ko Tao due to clear visibility, inexpensive pricing and the massive range of sea life. There are over 200 different species of fish and 130 species of coral permanently as living around the island. To the west of the island both whale sharks and bull sharks are often seen too.On shore the island is popular of course for sun-bathing, swimming, kayaking and hiking. The most popular beach is the long white sand beach called Sairee on the west coast or if you are looking for a beach to get away from the crowds we recommend Chalok Baan Khao on the south of the island. The amazing granite boulders found in both the forests and on the beaches of Ko Tao is making rock-climbing an increasingly popular activity also.
Koh Phangan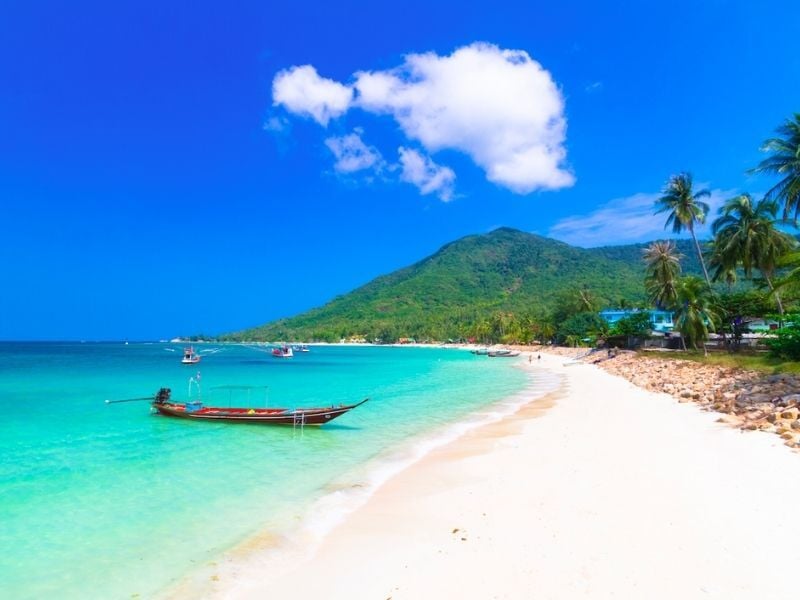 Koh Phangan along with Ko Samui and Ko Tau are backpacker heaven. Beautiful beaches, lost of water sports activities, and many great bars to match. For good or bad Koh Phangan has become (in)famous for its Full Moon Parties at Haad Rin Beach. Outside of the full moon the island is quieter and a perfect place to relax, snorkel and dive.
Koh Samui
Simply put Koh Samui is stunningly beautiful. Crystal-clear water, white sand beaches and native rainforest on the mountain tops. Stay on the beach in bungalows, wake up to fresh fruit and an early morning swim - paradise found! The island is only 25km so could be hiked over a few days or grab a scooter and explore in a few hours. The coral reefs in the lagoons are awesome for snorkelling.
Khao Sok National Park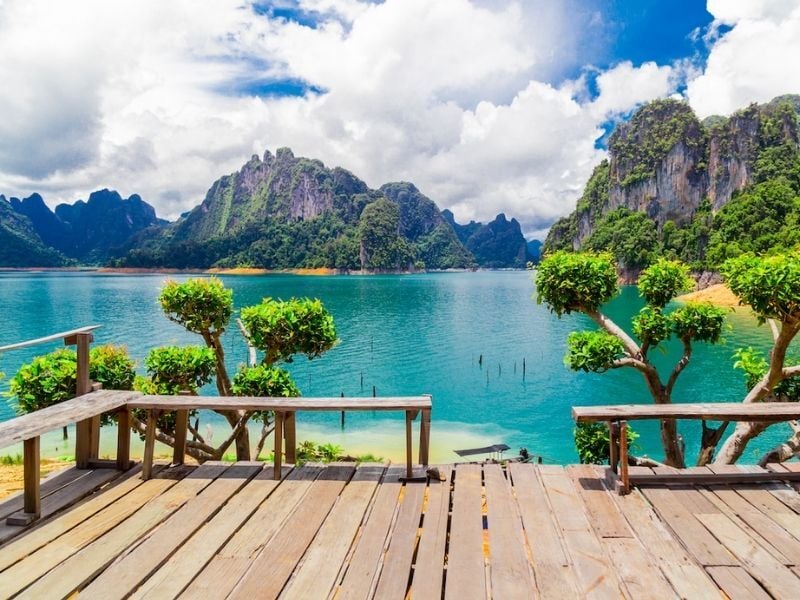 Khao Sok is a huge national park around the Cheow Lan Lake with a wondrous wildlife reserve. Explore the rainforest jungle on foot with guaranteed elephant encounters, loads of different monkeys and possibly even leopards. Stay in a floating raft house and, kayak down the Sok River, visit the jungle cave temple, and unwind with a kayaking trip on the lake.
Phi Phi Islands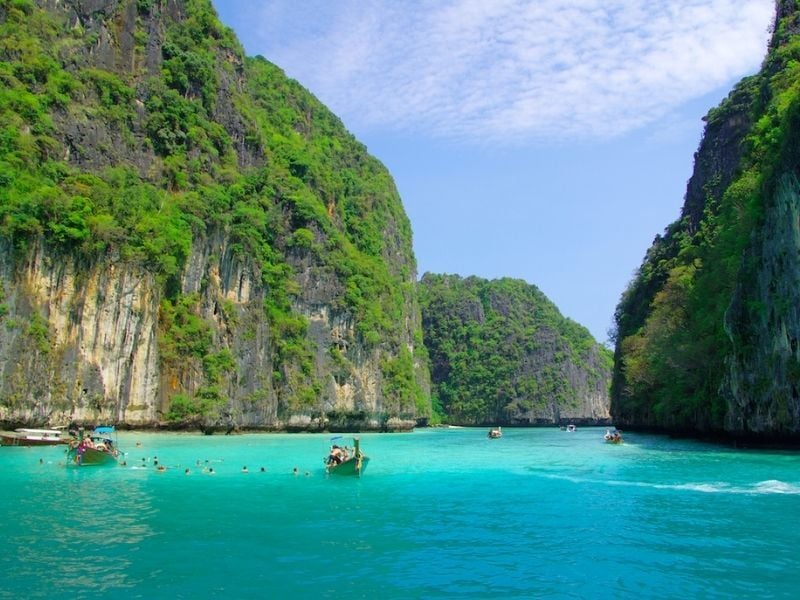 The Phi Phi Islands are a group of six islands that unfortunately became popular from the movie The Beach staring Leonardo Di'Caprio. Even today the islands are beautiful but over-tourism and over-development have perhaps diminished some of the shine of the area.
Krabi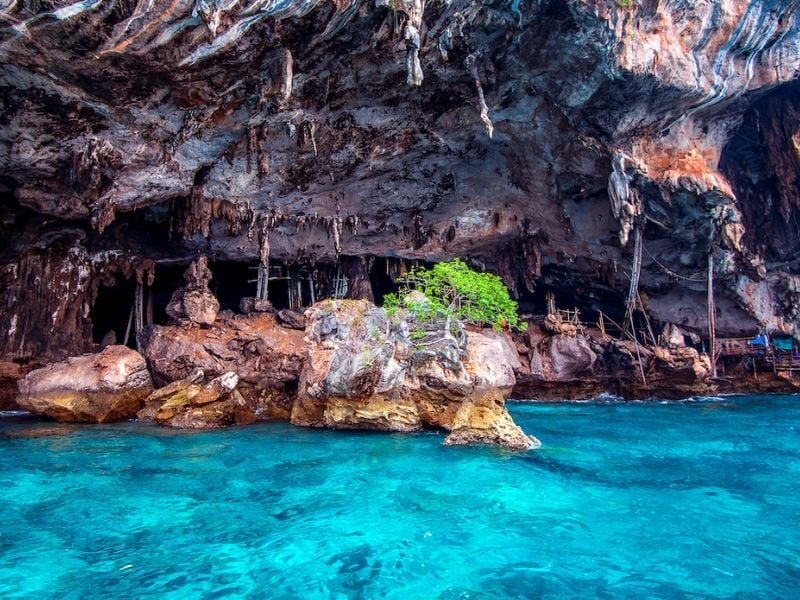 Krabi is a beautiful island with its two popular beaches Ao Nang and Railay. All the islands in this area have great coral reef fringes perfect for snorkelling or diving. The stunning limestone cliffs of Krabi have been world renowned for their rock climbing. Also make time to visit the Emerald Pool and Hot Spring Waterfalls and go sea-kayaking around the island sneaking into many little coves and paddling over the turquoise blue sea.
Koh Chang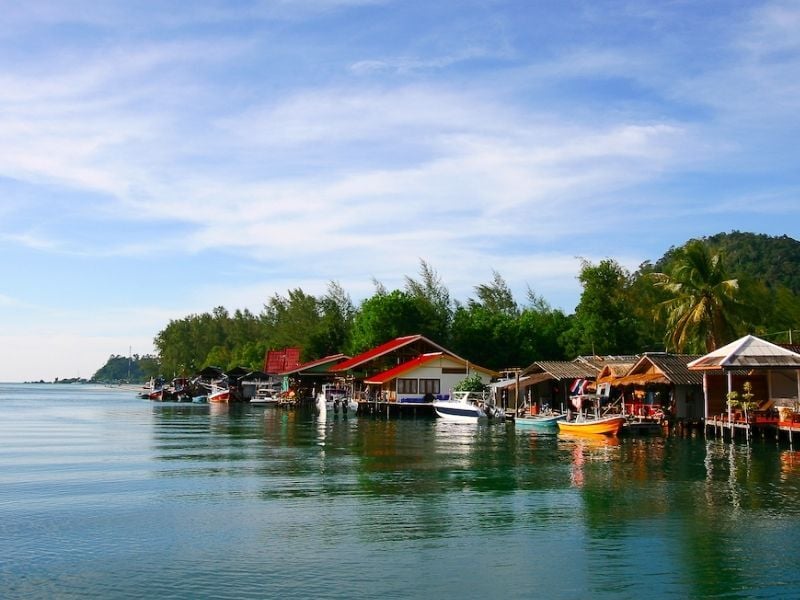 Koh Chang is Thailand's second largest islands but arguably also one of its most beautiful with its long white sandy beaches. Although tourist numbers are high it is nowhere near as busy as more popular resorts like Phuket and Ko Samui. Koh Chang is the idea place for snorkelling or those wanting to do their diver certificates. Our only criticism might be that value for money Kh Chang has become quite expensive compared to other parts of Thailand.
U. Adventures in Thailand
Tropical beaches, lush rainforests, dense jungles, vibrant cities, spectacular cuisine and some of the most lovely people on the planet – this is Thailand!!!
Inspiration on travelling in Thailand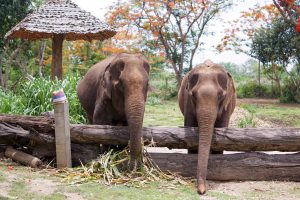 It's hard to imagine a Thailand without elephants – they are as much of the tourism DNA of Thailand as are the beautiful collections of archipelago islands with their golden
"Must see" experiences in Bangkok Bangkok is the capital city of Thailand and has a thousand smells, sights and tastes. To fully indulge in all that this magical city has