STUCCO HOUSES LINE TURQUOISE BAYS, GENTLE SUMMER BREEZE AND INCREDIBLY RICH HISTORY
Island hop your way down the Dalmatian coast, swimming in isolated bays and exploring ancient Adriatic island villages.
If you're looking for beautiful crystal bays, beautiful islands and historical centres, then this backpacking adventure tour of Croatia is exactly what you need.
We've designed the ultimate relaxing tour that connects you with locals on the mainland, on the coast and out on the islands. You can expect to eat scrumptious food, visit traditional markets and explore picturesque national parks, and experience first-hand the historical impact of being a gateway nation on the Adriatic Sea.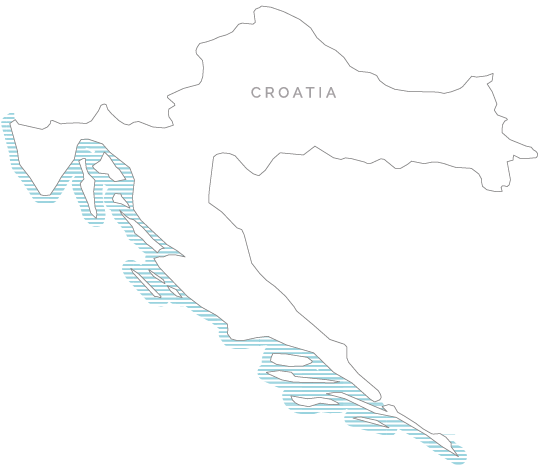 Zagreb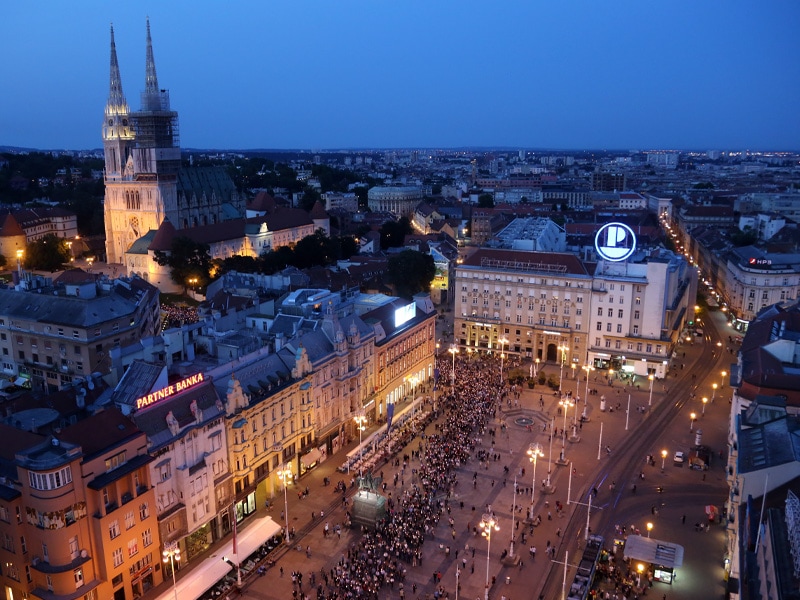 Zagreb is a beautiful city with wonderful architecture dating back to Roman times. The city was part of the Austro-Hungarian Empire in the 19th century, which can be seen in buildings such as the Mariæ Himmelfart Cathedral and the nearby historic noble palaces, which are well preserved. As the capital of Croatia, Zagreb is a vibrant cultural center with a lively nightlife, restaurants, bars and shopping. Everywhere in the city, the surrounding mountains are always visible, and the Medvkdnica mountain, Koratia's largest mountain, casts an impressive shadow over the city at sunset. The best starting point for exploring the city is the main square, Trg Bana Jelacica, where you'll find everything from shopping malls and fine dining to shops selling arts and crafts from local artists. Check out the oddly named Museum of Broken Relationships, and when it comes to dining, explore areas like Podgorači Street or Maslina Street to find traditional Croatian delights at affordable prices.
Plitvice National Park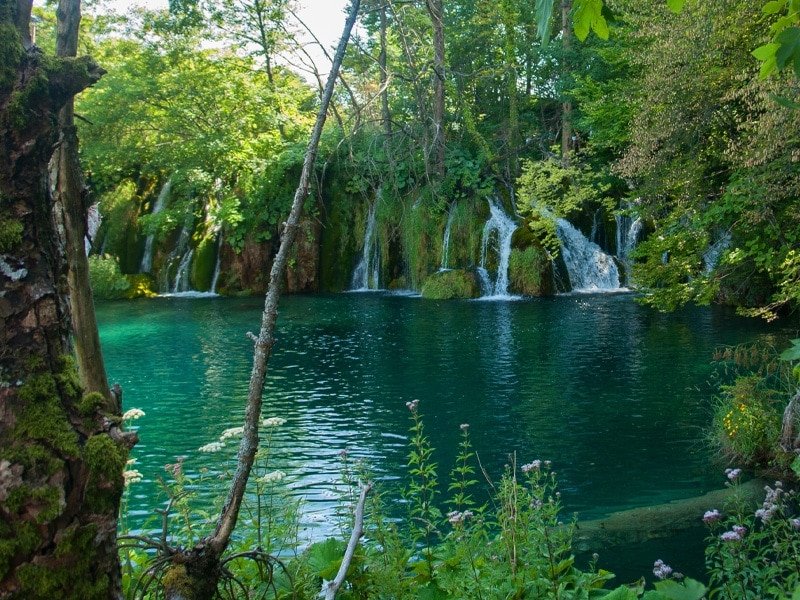 Plitvice Lakes National Park is an absolute oasis for nature lovers. Established in 1949 as Croatia's first and largest national park, its incredible lakes surrounded by rich forest have earned the national park UNESCO World Heritage status. Located in an area known as the Pannonian basin the national park sits hard up against the Dinaric Alps, which stretch from Italy to Albania separating the Balkan Peninsula from the Adriatic Sea. The park was originally a system of 16 individual lakes that have merged into a single interconnected body of water over time over time due to flooding caused by dense rainfall in the region and earthquakes.
Zadar
Zadar is a cultural and historical city that has had a tumultuous past. This city has seen and been subjected to many different dominions throughout its centuries of existence including Roman, Austro-Hungarian, and French rule. Although it's relatively new in terms of cities, Zadar has been around for about 3,500 years! Most recently it was unfortunately a focal point in the Croatian/Yugoslavian War of Independence in the 1990's. Since then, the city has undergone much transformation to regain its former glory. Today the city is a beautiful place to visit and has become famous for its gastronomic experiences including different delicacies from fish and sea food. Try a chocolate tour through the historic centre. The main boulevard promenade, known as "Kolocep," is like an open-air gallery of modern art. It includes one of Croatia's most recognizable landmarks in the form of an oversized fig tree and adjoining wooden humpback horse statue created by local sculptor Ivan Mrkic. Take an excursion trip to Pag Island, Dalmatia's second-largest island for some great swimming and sunbathing on the rocky shoreline.
Split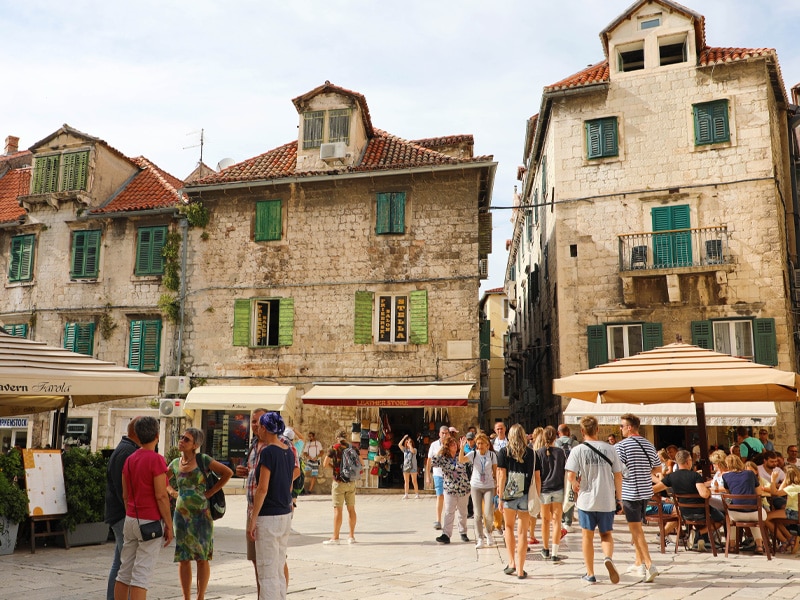 Split is the gateway city to exploring many of the southern islands. The evening stroll along the harbour promenade is a must do and there is lots of explore amongst the old fortresses, cathedrals, Renaissance and Baroque-style architecture and neighbourhood markets. It is not just old-stuff - the nightlife in Split with many bars and nightclubs was once described as being Los Angeles-esque from 1980s. We are not certain what that means but we think it means disco and hip.
Bol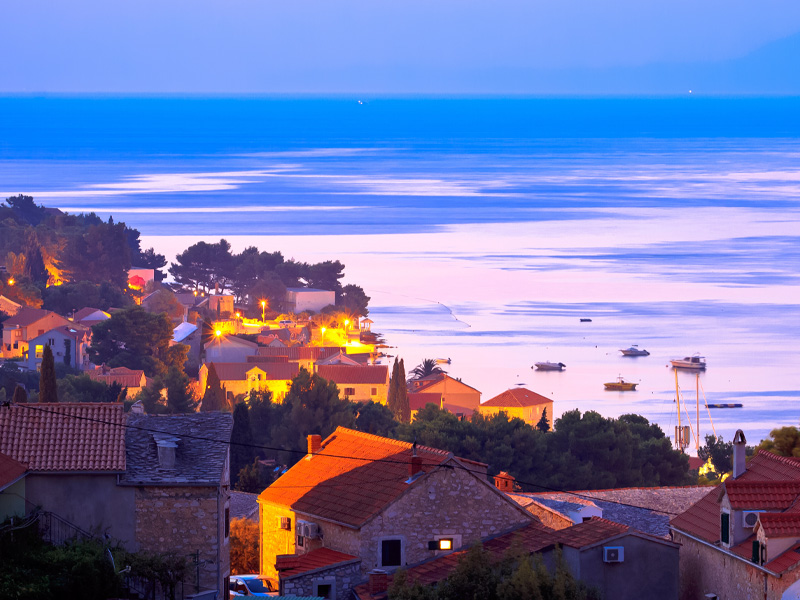 Although Bol is yet another of the many beautiful islands that Croatia has to offer it is perhaps most famous for its Sveti Petar beach. The peninsular shaped beach is one of the best places along the coast line for a days sun baking, or rent a windsurfer, paddle board or try kite surfing on the crystal clear water. Far removed from the hustle and bustle of city life in Zadar and Split, you'll find a more tranquil slice of paradise on Bol where the main activities are relaxing, eating great food and drinking awe-inspiring local wines.
Hvar
The island of Hvar is unique in the area for having a large fertile coastal plain, and fresh water springs. Its hillsides are covered in pine forests, with vineyards, olive groves, fruit orchards and lavender fields - boosted by mild winters and hot dry summers. Its location at the centre of Adriatic sailing routes made it an important trading post particularly under the Venetian Empire and then with Napoleonic rule. Originally inhabited by neolithic people whose distinctive pottery gave rise to the term Hvar culture, the Greeks founded Pharos in 384 BC on the site of today's Stari Grad; making it one of the oldest towns in Europe. Continued prosperity throughout history has brought culture and the arts, with one of the first public theatres in Europe, nobles' palaces and many fine communal buildings. Today it is a tourism hotspot - also popular for its nightclubs and bar scene.
Korcula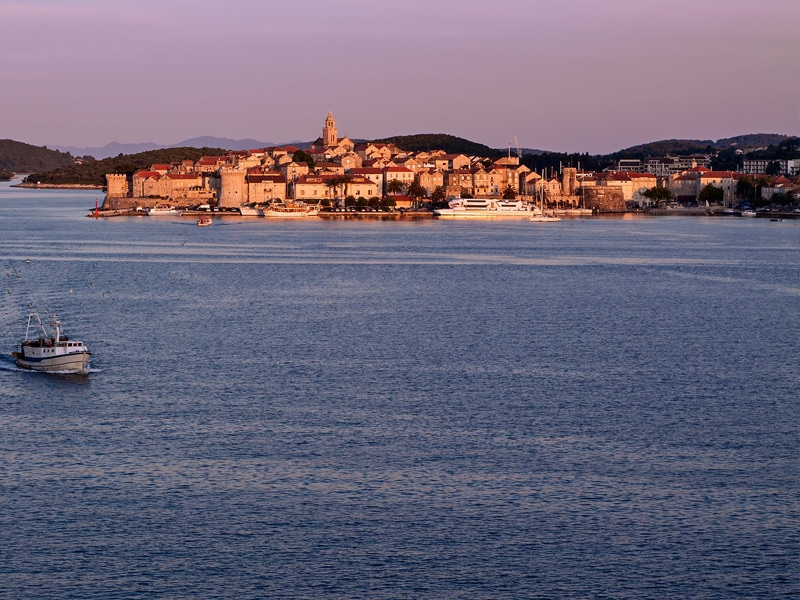 In the 19th century Bonaparte wrote about Korčula's "natural beauty" - its lush green landscape and beautiful beaches. It's an island that has been fought over by many different cultures throughout its rich history. Since then Greeks, Romans, Venetians, Germans, Austrians, French and many more have laid claim to it. The result is an island of rich culture. The Moreška sword dance (dating back to 1627) and klapa (a cappella style of singing from what was once Yugoslavia but now Croatia) are interesting cultural experiences you should see. Explore the UNESCO protected Old town (Stradun) which is home to more than 80 buildings that are classified as cultural heritage monuments. It's worth going just so you can see some amazing wall paintings inside houses not to mention St Blaise's Church which houses some very elaborate original frescos and icons. Archaeological items from neolithic and mesolithic periods can be found in the museums on the island. The old walled city has often been unfortunately dubbed "little Dubrovnik". And of course Korčula claims (disputed) to be the birthplace of the great Italian explorer Marco Polo.
Trstenik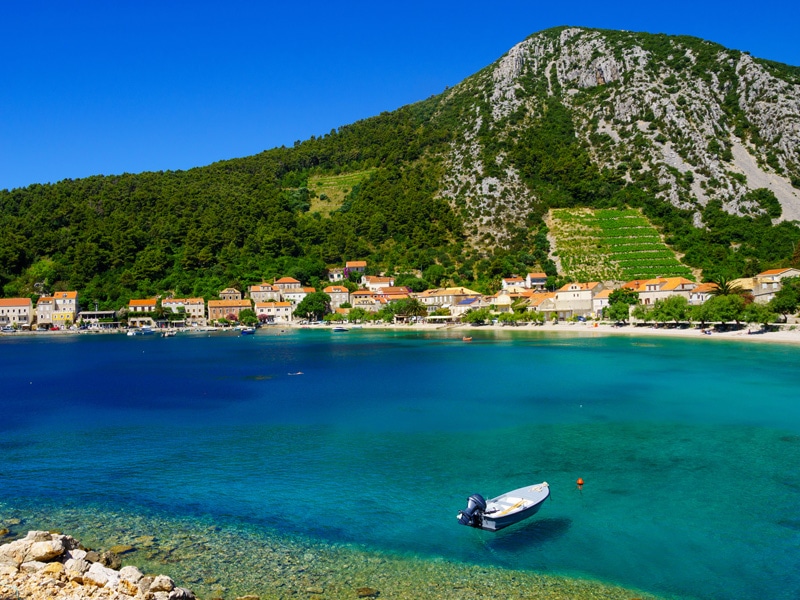 In the 19th Century, the city of Trstenik found prosperity by exporting its grapes throughout the Mediterranean. There were over 30 wineries in the area using special construction techniques similar to what is found in Rhone Valley wineries today. However the phylloxera bug all but killed the Croatian wine industry leaving Trstenik bankrupt. Since then, things have turned around for today's hardy grape growers. They are now selling their excellent local products on the international market as well as welcoming a steady stream of visitors putting Trstenik firmly back on the map!
Mljet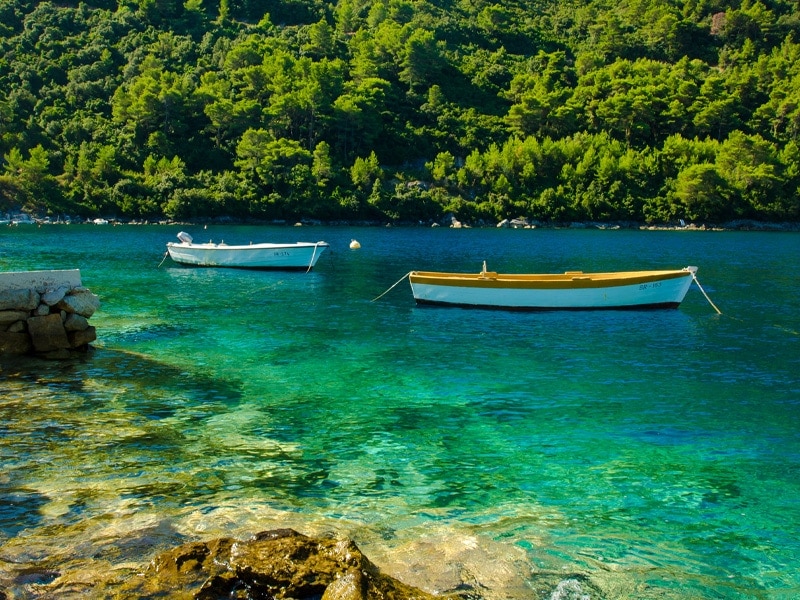 Mljet Island its often listed by different travel magazines as one of the most beautiful islands in all of Europe! Mljet's national park is simply stunning. Two famous lakes sit in the middle of the island the biggest of which houses the Monastery Odigitri on an island in the middle, you can access by boat. Around the island are numerous caves with stalactites and stalagmites to explore. Visit Odysseus's cave near the village of Babino Polje. Legend has it that Odysseus found shelter here after surviving a shipwreck and due to the beauty of the island and his love for the nymph Calypso he stayed on the island for 7 years. In one of the old abandoned houses right above the cave there's now Bar Calypso run by an older local called Nikola selling "warm souls and cold drinks".
Dubrovnik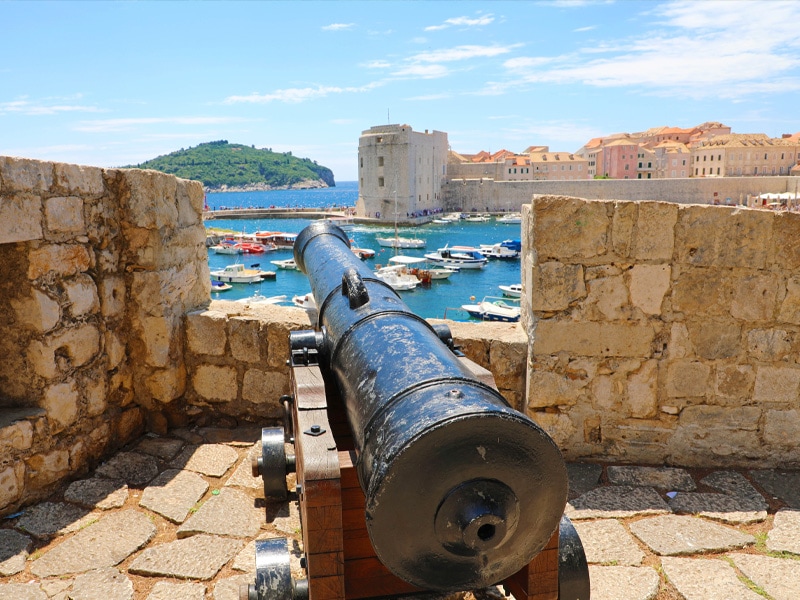 The old city of Dubrovnik is an UNESCO World Heritage Site and one of the most visited cities in the Mediterranean. The historic walled city is connected to the Croatian mainland via the Pelješac Bridge. Dubrovnik became a prosperous trade-hub during the times of Roman Empire, Venice Republic and as the namesake capital of the Republic of Ragusa. The entire city was almost destroyed when a devastating earthquake hit in 1667 and in 1991, during the Croatian War of Independence, Dubrovnik was besieged by the Yugoslav People's Army for seven months and suffered significant damage from shelling. To see how much it suffered visit Fort Bokar that is situated on Mt Srdj which towers above Old City. And of course Dubrovnik is the major location for the Game of Thrones TV series.
A journey through Croatia's historic cities on a private cruise along the beautiful Adriatic Coast and a visit to the Plitvice National Park.
Inspiration on travelling in Croatia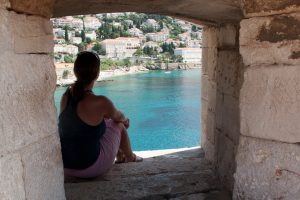 Split day trips – island hopping, boat trips and more If you have time before or after your U.Trip to Croatia and should you find yourself in Split, then we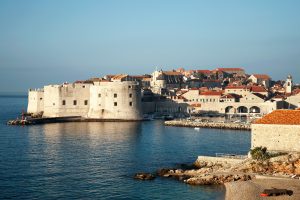 Where to find your favouriste scenes from the Game of Thrones Based on the best-selling book series A Song of Ice and Fire by George R.R. Martin, the Games of