Travel indonesia – Bali & Gili Islands
RELAXED SUN DRENCHED DAYS AND ACTIVE EVENINGS IN BEACH-SIDE BARS
Fun in the Sun
If it's fun and laughter you're after, with surrealistic sunsets and peaceful sunrises, then Bali is your ideal magical island destination, and these U. adventures are the best way to experience it all. Stunning beaches and beautiful tropical islands are the backdrops of this crazily fun backpacking tour.
You'll snorkel and surf by day and party on the beach by night. Designed to balance a cultural understanding of the Indonesian people, and diving headfirst into a "Bali-scape", this tour will help you relax, take a breath from your normal life, and appreciate the enormity of living a simple life.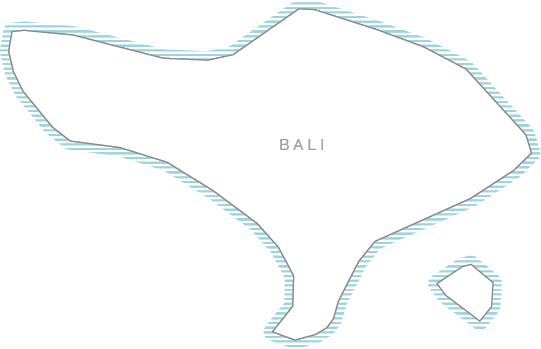 Lovina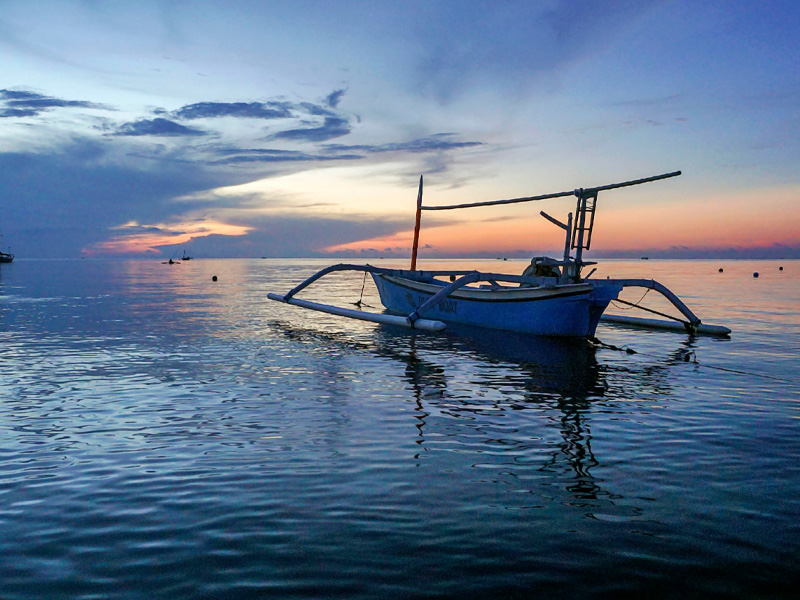 Lovina is located right on the coast and with the Bedugul mountain range on one side. There are opportunities to engage in a lot of outdoor activities such as hiking to waterfalls, and hot springs, dolphin safaris, snorkelling or diving through the Kontiki marine park at Menjangan Island where Bali's best preserved coral reefs can be found.
Kintamani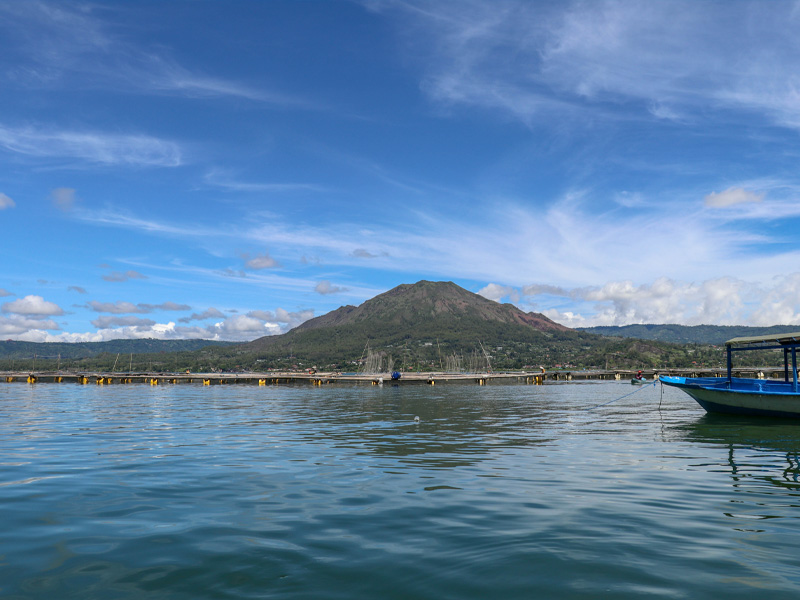 Kintamani is an amazingly beautiful city surrounded by majestic mountains, breathtaking scenery, and numerous hot springs. From the bustling city you can see the active volcano of Mount Batur and the deep water Lake Batur, which is the largest lake in Bali. Mount Batur is known as the "gateway to heaven" and the view from 1500 metres above sea level is spectacular and particularly popular at sunrise. As you clip to summit you will pass the crate lake often with smoke rising from the volcano itself.
Munduk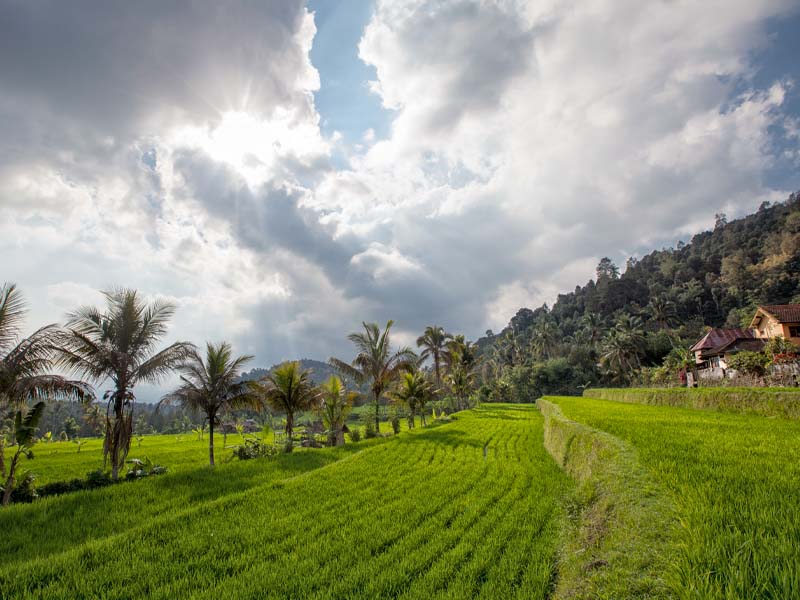 Munduk is a small village located high on the slopes of Mount Agung surrounded by green mountain landscapes and beautiful rice terraces. Not far from town is the Samudra Waterfall where you can easily be tempted to take a much-needed dip to cool down from the scorching heat. Aside from the alluring natural beauty of some of the world's most amazing scenery, Munduk also boasts its own epicurean culture based on locally grown fresh coffee and cocoa beans that are mixed in creative ways with other ingredients such as fruit or chocolate!
Bedugul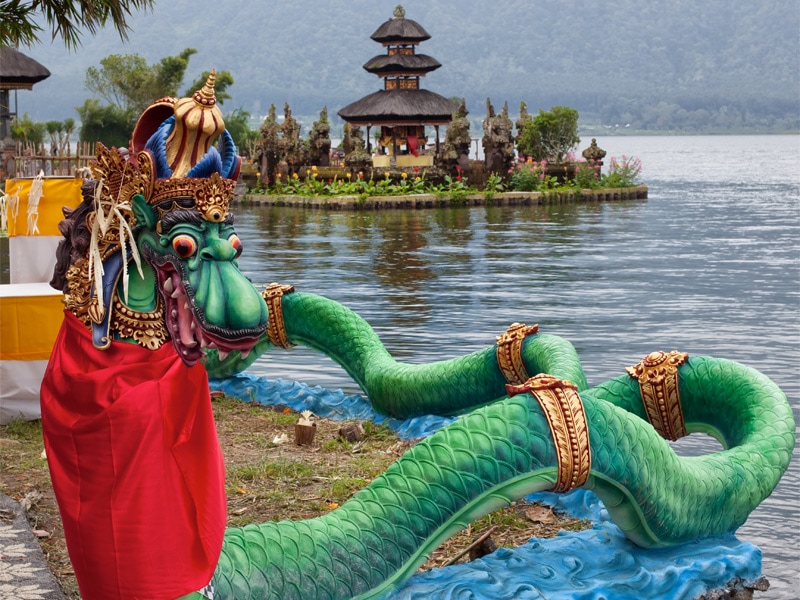 Bedugul is a pristinely beautiful town nestled in between the mountain range of Beratan and Merbok – famous for its natural beauty, the spectacular Kebun Sayuran Botanical Gardens, unique temples, and hidden picturesque waterfalls. Grab a bike and explore the smaller streets of the town and numerous peaceful temples or rent a boat and explore the Beratan Lake where the Ulun Danu Temple is located on a small island. This ancient Hindu temple offers spectacular views back to Bedugul from the front veranda where there is an impressive array of local street food vendors most days of the week.
Ubud
Ubud is located between steep ravines, green mountains, and rice fields. The city is said to be Bali's most cultural city, with beautiful temples throughout the city. It is not unusual to run across a religious parade where the Balinese are in their traditional kite costumes. Ubud is relatively inexpensive compared to nearby Denpasar; and the city is filled with many artisan shops and small markets and also is said to have the highest number of foreign creative expats in Bali. Outside of town Ubud has some wonderful hidden beaches with clear calm waters and volcanic black sand!
Candi Dasa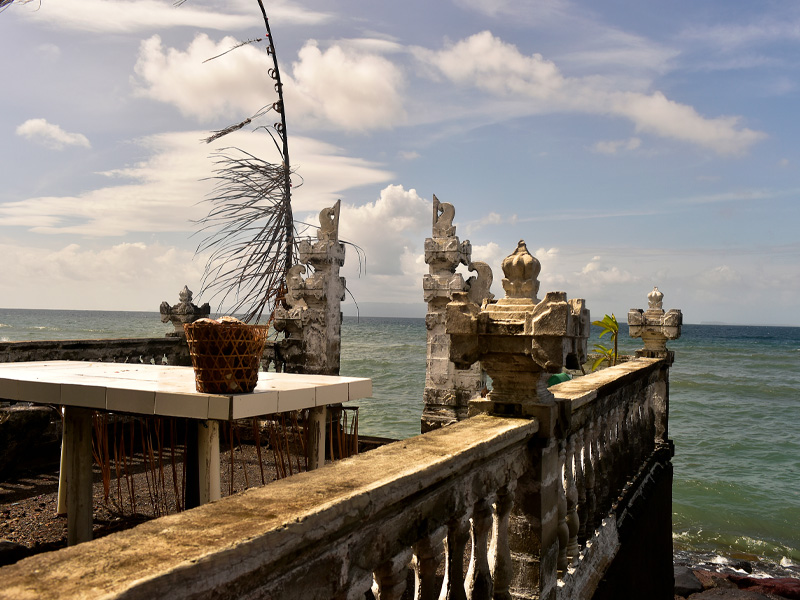 Candi Dasa is a small, quiet fishing village located on the Java coast but surrounded by mountains. It is more off the beaten track creating opportunity to discover all of this hidden city's delights like its charming village, historical temples, of which there are many, and the majestic volcano - Mount Agung, which has erupted several times in recent history. Candi Dasa does not have any beaches but rather a rocky shoreline exposed directly to the ocean. When the weather is stormy the waves crash against the shoreline further giving this remote unspoilt feel which you don't get in a lot of Bali.
Nusa Penida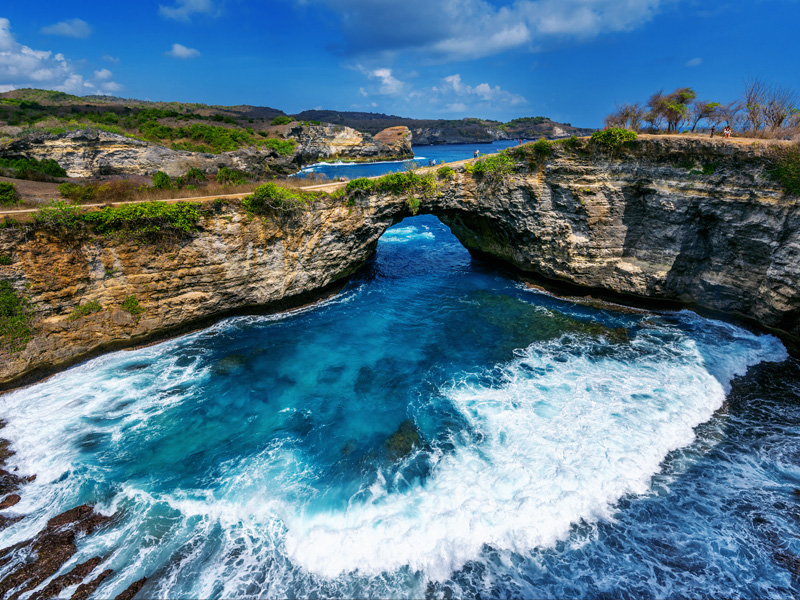 Nusa Penida can be reached in twenty minutes by boat from Bali. The island is best known for Kelingking Beach, where the cliff looks like a Tyrannosaurus rex jaw. From the lookout point there is a wonderful vista over the beautiful sea and beach. Nusa Penida is famous for its scuba diving where seeing the giant devil rays is relatively normal and the magnificent manta rays (mola mola) in certain seasons.
Uluwatu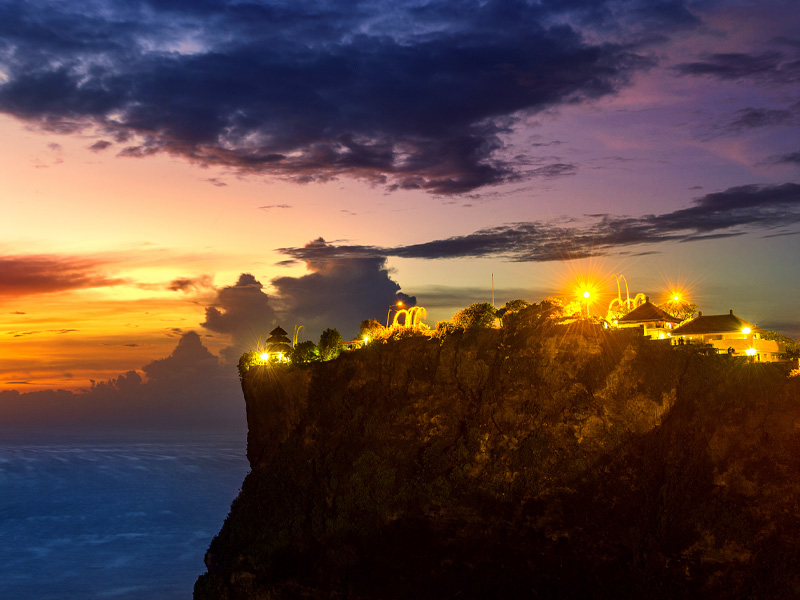 Uluwatu is a gorgeous natural beauty area and very famous for its Uluwatu temple which is perched above rocky cliffs as well as its beautiful blue water, pristine white sandy beaches, serene temples and ancient architecture. Although the town has changed quite a bit in the last decade, it still maintains the original charm of being one of Bali's most spectacular and historic areas. Strong currents from the Indian Ocean coupled with warm waters from local hot springs mean that learning to surf here is a must for everyone visiting Bali. In the evening unwind with the sunset on any of the trendy bars and restaurants nestled amongst the rock formations.
U. Adventures in Bali - Indonesia
Almost the perfect adventure tour of bali and thailand, experiencing culture, beaches, volcanoes, rainforests, amazing food, and even more amazing people!
Sun, sand, surf, sunrises and sunsets – authentic Bali and the tropical Gili Islands
Inspiration on travelling in Bali - Indonesia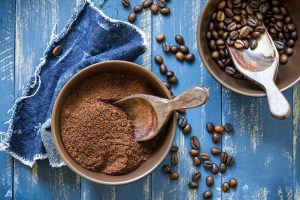 All adventure travel in Asia and Indonesia should include the unique experience of drinking Kopi Luwak Hold onto your seats, because U. backpacking and adventure travel experts are about to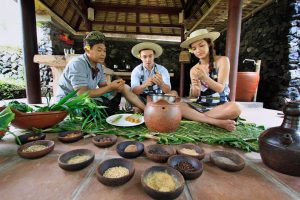 Visiting Asia – Here's What You Need to Know Before You Travel A world away, both in the distance and cultural diversity, Asia is an enormous melting pot of distinct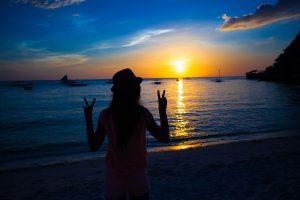 Welcome to our U.Advice Guide for Asia. This guide has been written by members of our U.Crew who have personally been and travelled extensively throughout Asia, and have had a